ACADEMIA is a research project funded by the European Research Council (ERC StG, no. 949710) led by the PI Ota Pavlíček from the Institute of Philosophy, Czech Academy of Sciences. The project focuses on the history of European universities, in particular on quodlibets, the currently underresearched genre of debates which flourished at the Faculties of Arts of European universities from the 14th to the 17th century and which were the precursors of modern academic practice.
Find out more about the research, events and publications funded by the project
<!—-><!—->
<!—->
<!—->
<!—->
<!—-><!—->
<!—->
<!—->
<!—->
On September 6, 2023 TRIPTIC-EU research group organised a workshop with dr. Maximilan Schuh from the Friedrich-Mainecke-Institut, Freie Universität in Berlin. Dr. Schuh presented a lecture 'Forecasting Weather in Fourteenth-Century Oxford. Perceptions and Interpretations of Environmental Phenomena at the Faculty of Arts', which was followed by […]
<!—-><!—->
<!—->
<!—->
<!—->
<!—-><!—->
<!—->
<!—->
<!—->
The ERC-ACADEMIA/TRIPTIC-EU research group is delighted to announce that a new Brepols book series, IPA: Intellectual Practice and Thought at Late Medieval And Early Modern Universities, has been founded. The IPA series aims at the history of thought and scholarly practice at medieval and early modern […]
<!—-><!—->
<!—->
<!—->
<!—->
<!—-><!—->
<!—->
<!—->
<!—->
The research group TRIPTIC-EU within the Department for the Study of Ancient and Medieval Thought IP CAS is organising the 28th Annual Colloquium of the Société Internationale pour l'Étude de la Philosophie Médiévale: Communities of Debate: Collective Intellectual Practice in Medieval Philosophical Thought. The colloquium will […]
Meet the members of our research group TRIPTIC-EU (Research Group for Transdisciplinary Investigation of Philosophical, Textual and Intellectual Culture in the Early Universities) at the Department for the Study of Ancient and Medieval Thought, Institute of Philosophy, Czech Academy of Science.
Learn more about Matthias of Knin's Quodlibet – the largest medieval disputation
Don't miss news about our exploration into the history of modern European universities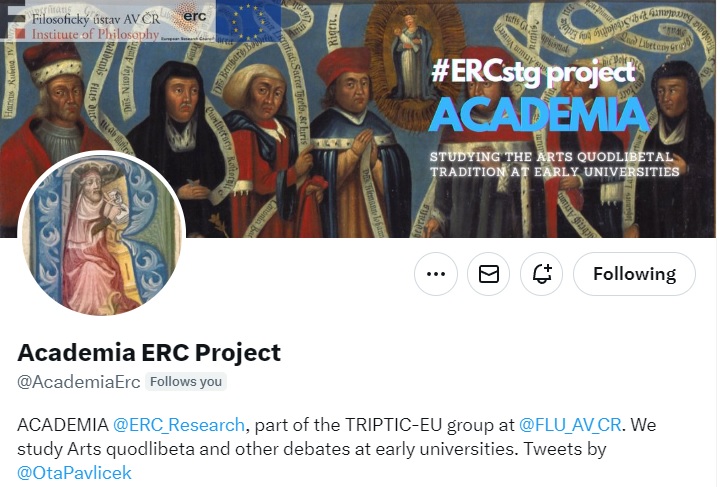 Discover UNIQ – the digital database about the Prague struggle over universals between 1348 and 1500