ACADEMIA is a research project funded by the European Research Council (ERC StG, no. 949710) led by the PI Ota Pavlíček from the Institute of Philosophy, Czech Academy of Sciences. The project focuses on the history of European universities, in particular on quodlibets, the currently underresearched genre of debates which flourished at the Faculties of Arts of European universities from the 14th to the 17th century and which were the precursors of modern academic practice.
Find out more about the research, events and publications funded by the project
<!—-><!—->
<!—->
<!—->
<!—->
<!—-><!—->
<!—->
<!—->
<!—->
<!—->
You are cordially invited to attend the Summer School that ERC-ACADEMIA/TRIPTIC-EU is organising at the European Festival of Philosophy at Velké Meziříčí (CZ) which will take place from May 31 to June 6, 2023. Ota Pavlíček and Lukáš Lička will talk about the birth of modern […]
<!—-><!—->
<!—->
<!—->
<!—->
<!—-><!—->
<!—->
<!—->
<!—->
Wondering what the quodlibetal debate in the Middle Ages looked like? Find out more about the Matthias of Knín's quodlibet: it took place in 1409 in Prague, it was planned for 148 masters, and it was probably the largest disputation of this sort in the Late […]
<!—-><!—->
<!—->
<!—->
<!—->
<!—-><!—->
<!—->
<!—->
<!—->
We are happy to announce that Ota Pavlíček will attend the ERC NOTA Conferences Series and present a paper 'Debating for a Month: Quodlibetal Arts Disputations at European Universities as an Example of Late Medieval Scholarly Conference Tradition'. The lecture will take place on June 13, […]
Meet the members of our research group TRIPTIC-EU (Research Group for Transdisciplinary Investigation of Philosophical, Textual and Intellectual Culture in the Early Universities) at the Department for the Study of Ancient and Medieval Thought, Institute of Philosophy, Czech Academy of Science.
Learn more about Matthias of Knin's Quodlibet – the largest medieval disputation
Don't miss news about our exploration into the history of modern European universities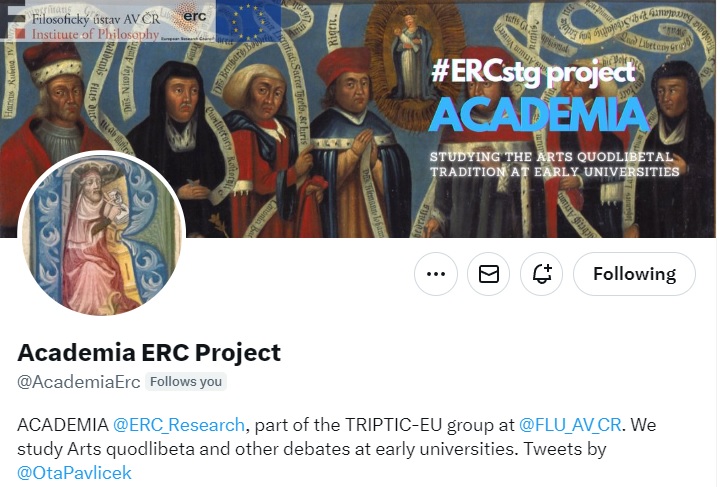 Discover UNIQ – the digital database about the Prague struggle over universals between 1348 and 1500