ACADEMIA is a research project funded by the European Research Council (ERC StG, no. 949710) led by the PI Ota Pavlíček from the Institute of Philosophy, Czech Academy of Sciences. The project focuses on the history of European universities, in particular on quodlibets, the currently underresearched genre of debates which flourished at the Faculties of Arts of European universities from the 14th to the 17th century and which were the precursors of modern academic practice.
Find out more about the research, events and publications funded by the project
<!—-><!—->
<!—->
<!—->
<!—->
<!—-><!—->
<!—->
<!—->
<!—->
Dr. Ota Pavlíček will participate in the international conference Debates, Uncertainties, Multiple Truths: Scholarly Disagreements in Early Modern European Education which will take place on December 7-9, 2023 at the Centre for the History of Renaissance Knowledge (Institute of Philosophy and Sociology of the Polish Academy […]
<!—-><!—->
<!—->
<!—->
<!—->
<!—-><!—->
<!—->
<!—->
<!—->
Dr. Ota Pavlíček, the PI of ERC ACADEMIA, participated in the 8th Annual Meeting for Reading Medieval Manuscripts in Pervolia (Cyprus) on October 22 – 27, 2023. Ota Pavlíček presented a paper, 'Propter Superbiam mulierum viri depauperantur: Classifying Arts Quodlibetal Texts in the Lights of Recently […]
<!—-><!—->
<!—->
<!—->
<!—->
<!—-><!—->
<!—->
<!—->
<!—->
On September 6, 2023 TRIPTIC-EU research group organised the Medieval Weather Forecasting Workshop with dr. Maximilan Schuh from the Friedrich-Mainecke-Institut, Freie Universität in Berlin. Dr. Schuh presented a lecture 'Forecasting Weather in Fourteenth-Century Oxford. Perceptions and Interpretations of Environmental Phenomena at the Faculty of Arts', which […]
Meet the members of our research group TRIPTIC-EU (Research Group for Transdisciplinary Investigation of Philosophical, Textual and Intellectual Culture in the Early Universities) at the Department for the Study of Ancient and Medieval Thought, Institute of Philosophy, Czech Academy of Science.
Learn more about Matthias of Knin's Quodlibet – the largest medieval disputation
Don't miss news about our exploration into the history of modern European universities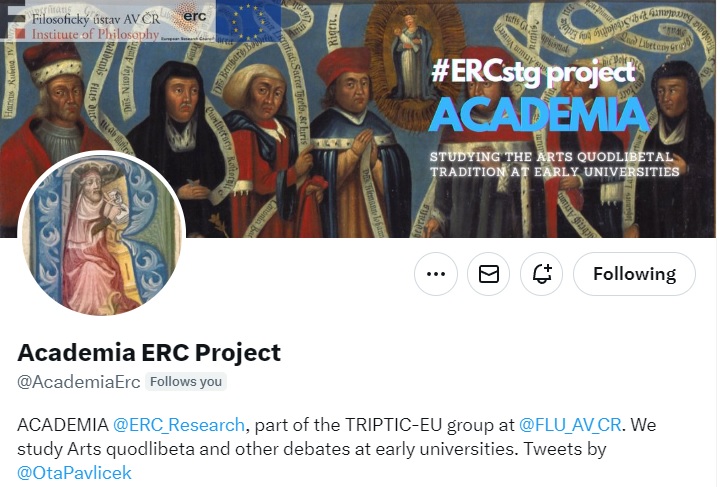 Discover UNIQ – the digital database about the Prague struggle over universals between 1348 and 1500